Gold American Eagle (All Sizes)
The Gold American Eagle is based on Augustus Saint-Gaudens' 1907 $20 Gold Double Eagle, showing a proud Lady Liberty. With an iconic design and 1 oz of Gold, the 2016 Gold Eagle combines collectibility with bullion investment appeal.
Coin Highlights:
Contains 1 oz actual Gold weight.
Multiples of 20 are packaged in mint tubes. Multiples of 500 are packaged in "Monster Boxes." All other coins will be in protective plastic flips.
91.67% 22K Pure Gold

Gold Canadian Maple Leaf
Canadian Gold Maple Leafs are considered to be one of the most beautiful Gold coins in the world. Since its release in 1979, the 1 oz Gold Maple Leaf has appealed to both investors and collectors alike for its beauty and purity.
Coin Highlights:
Coins minted after 1982 contain 1 oz of .9999 fine Gold.
Coins will come in protective plastic flips.
Eligible for Precious Metals IRAs.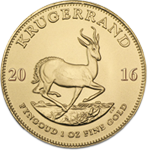 Gold Krugerrand
South African gold Krugerrands are perhaps the most recognizable coin in the entire world. Add this most recent edition to your portfolio today!
Coin Highlights:
Contains 1 oz of Gold.
Obverse: Likeness of Paul Kruger, South Africa's first and only president, along with "South Africa" in Afrikaans and English.
Reverse: A Springbok antelope, the national animal of South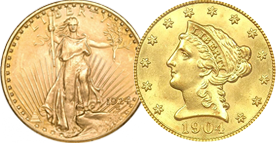 Pre-1933$20 St. Gauden / $20 Liberty
Commonly referred to as the "Double Eagle" because of it's beautiful design by Augustus Saint-Gaudens and minted from 1907-1933. The $20 St Gauden contains .9675 oz. of Gold and is an extraordinary asset to have in your portfolio. The beauty and scarcity of this coveted asset lends to it's accelerated appreciation and buoyancy during volatile markets.
Coin Highlights:
Contains .9675 oz of Gold.
Obverse: Shows Liberty, facing left, encircled by 13 stars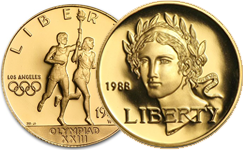 BU Proof Gold Commemoratives
"BU" Proof Commemorative Gold Coins are an extraordinary investment for those who want the benefits & features i.e. exemption from Broker Reporting Requirements and barter & exchange as with Pre-1933 US Gold Coins without the premiums associated with those assets. "BU" Proof Gold Coins
Coin Highlights:
Coins in this listing will mainly consist of coins minted between 1986-2011.
Past issues include the Olympics, the Statue of Liberty, the Constitution, President James Madison, Mt. Rushmore and the Star Spangled Banner, just to name a few.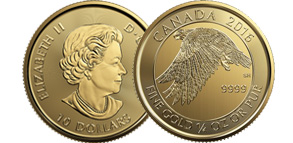 Gyrfalcon Gold
This quarter-ounce 99.99% pure gold bullion coin features a striking reverse design by Canadian nature artist Steve Hepburn, which captures the celebrated power of the renowned gyrfalcon in flight.
Coin Highlights:
Contains 1/4 oz of .9999 fine Gold.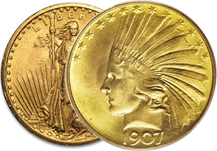 Pre-1933 Indian / Liberty
Contains .9675 oz of Gold. Obverse: Shows Liberty, facing left, encircled by 13 stars with the word "Liberty" on her hair band. Reverse: Features a heraldic eagle with a shield on its breast with thirteen stars above. Surrounding the eagle is "United States of America" and the denomination…
Coin Highlights:
Contains .9675 oz of Gold.
Obverse: Shows Liberty, facing left, encircled by 13 stars with the word "Liberty" on her hair band.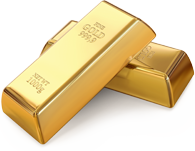 Gold Bars
Gold Bars are a way for Investors to invest in the absolute lowest premium, least expensive, closest in correlation to Spot and hold physical Gold. Gold Bars may be from various mints; ask a Senior Partner which mints Patriot Gold Group is currently making available.
Coin Highlights:
Contains 1 oz of .9999 fine Gold.
Individual bars come in tamper evident package with assay card, guaranteeing the Gold metal weight and purity.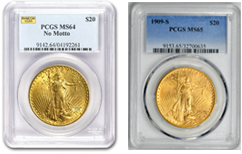 Certified Investment Grade MS Graded Pre-1933 Gold
Encapsulated, Authenticated Pre-1933 Mint State condition coins, exempt from Broker Reporting Requirements are the most coveted and cherished of any Investors portfolio. These coins being upwards of 100+ years old are in gem like condition, graded by PCGS and NGC and have outperformed any other asset class in the world over the last 30 years. Ask a patriot Gold Group Senior Partner about these coveted assets.
Buy Gold & Silver Coins
05/2016 JPMorgan "We're recommending our clients to position for a new and very long bull market for gold"
Why Buy Gold?
Gold is a preservation of wealth, a hedge against inflation and deflation, a currency and storage of wealth for over 4,000 YEARS! Recently Ray Dalio stated "If you don't own Gold you don't know History or Economics". Stanley Drunkenmiller "We regard it was a currency, and it remains our largest currency allocation." WSJ: MarketWatch  Gold: 400% – 500% in the next 5-7 Years Most economists predict a figure in the $5000-$8000 range, but other estimates go far higher. A gold mania is not imminent, but I believe it is inevitable."
Why Choose Patriot Gold Group to Manage Your Precious Metals?
Patriot Gold Group is comprised of the TOP 5 Industry Experts with collectively 30+ Years' experience in Precious Metals Investing. PGG Senior Partners have held Director of Sales, Director of Trading & VP positions at firms like Goldline, Merit, Monex, American Bullion, Lear & Wholesale Direct Metals and now bring you INVESTOR DIRECT PRICING! Knowledge, Experience, Value … The PATRIOT Commitment.
Gold May Increase Your Wealth
David Stockman "I think gold will soar in value." Gold Could Surge To $8,000/oz On Negative Interest Rates – Lassonde
JP Morgan "Upcoming Recession Buy Gold" UBS "Buy Gold" "Minimum Price $3300"
Wall Street Journal: Why buying gold now could be a lot like buying stocks in 2009
Technical trading patterns suggest gold may finally be breaking out into a bull market.
Gold remains out of favor despite the recent rally.
The Federal Reserve's ability to raise interest rates is constrained.
The overpriced U.S. dollar has limited room to run.
Real interest rates are heading lower around the world as central banks get creative.
Physical gold may be difficult to acquire in the coming years
What Type of Precious Metal Should You Invest In?
Most metals Market Newcomers think "Gold is Gold, Silver is Silver", that's like saying Hewlett Packard and Apple are the same because they're both Tech Companies, or Ford & Tesla … NOT the case, take advantage of our expertise and our knowledge! The greatest resource of misinformation is the internet, you can't go to WebMD and think you're a Doctor. Please we ask of you, utilize the resource we're providing you, you worked your entire life to save what you have, spend the time, review our site thoroughly, read our emails and speak with a Senior Partner at PATRIOT Gold Group. You must understand "buying the dip", length of term of hold, your exit strategy, risk tolerance, diversification & allocation and other benefits & shortcomings of investing in Precious Metals, let us assist you, let us educate you, we look forward to hearing from you and being there for you, every step of the way.