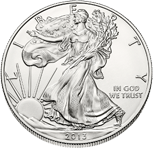 Silver American Eagle
With 1 oz of pure U.S. Silver and a beautiful patriotic design, the Silver American Eagle has become the most popular bullion coin in the United States.
Coin Highlights:
Contains 1 oz of .999 fine Silver.
Multiples of 20 1-ounce Silver Eagles are packaged in plastic tubes. Multiples of 500 are packaged in "Monster Boxes."
Eligible for Precious Metals IRAs.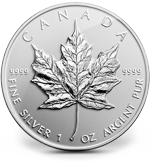 Silver Canadian Maple Leaf
The Silver Maple Leaf Coins feature a unique light diffracting pattern of radial lines, making the coins harder to duplicate and providing another measure of security.
Coin Highlights:
Contains 1 oz of .9999 fine Silver.
Multiples of 25 are packaged in mint tubes.
Eligible for Precious Metals IRAs.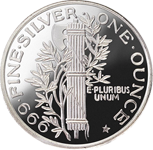 1 OZ Silver Rounds
PATRIOT Gold Group guarantees you will receive only .999 fine Silver rounds. We carry a diverse mix of Silver rounds from numerous manufacturers such as Sunshine Mint Engelhard, Johnson Matthey, and other manufacturers of comparable quality. All are hallmark-stamped from their issuer, indicating the exact purity of the Silver content. Our Silver rounds are high quality rounds from some of the finest mints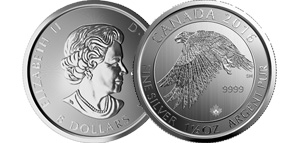 Gyrfalcon Silver
This 1.5-ounce 99.99% pure silver bullion coin features a striking reverse design by Canadian nature artist Steve Hepburn, which captures the celebrated power of the renowned gyrfalcon in flight.
Coin Highlights:
Contains 1.5 oz of .9999 fine Silver.
Multiples of 15 are packaged in plastic tubes.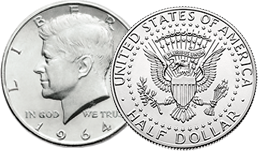 Pre-1964 Silver i.e. Junk Silver, Half Dollars Barter & Exchange Metals
Pre-1964 is a unique way for retail investors to invest in private, exempt from broker reporting requirement silver. The most significant benefit of pre-1964 silver is the barter and exchange value along with their increased scarcity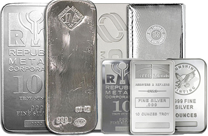 Silver Bars 1oz 10oz 100oz
The most economical way to invest in Silver. These generic bars minted by Johnson Matthey, Engelhardt and Sunshine Mint are the absolute lowest premiums and trade in accordance with the spot price of silver.
Buy Gold & Silver Coins
Why Buy Silver?
Many believe Silver will easily outperform Gold due it's multiple applications as an investment metal, industrial and utilitarian applications and barter and exchange metals. Silver is the only commodity, the only product in the world that was more expensive 36 years ago than it is today, in 1980 Silver was $50/oz today it's below $20 and there's 90% LESS SILVER. Silver is the currency of gentleman; debt is the currency of slaves. India will be importing 1/3 of the globally mined Silver supply due to its aggressive Solar Panel initiative and China has a voracious appetite for Silver as well as Gold. The WSJ has forecasted Silver to return 300%-1000% in the next 3-10 Years!
Silver May Increase You Wealth
Most focus on investing precious metals as a preservation of wealth, hedge against inflation and deflation but one must also consider the significant opportunity in their Return on Investment (ROI) especially with Silver. Silver traded in the mid $30's for two years, was $49/oz in April 2011 and Retail Investors have an opportunity to get in now under the cost of production, less than $20/oz! If Silver were to return to $49/oz that's an almost 200% ROI, when natural resources move, they move swiftly and significantly, this is your opportunity get into Silver on clearance.
Patriot Gold Group Senior Partner will assist in Investing in Silver
Herein lie the huge benefit of having a Senior Partner at Patriot Gold Group, whether it be as a return on investment, preservation of wealth or if you are concerned with barter and exchange, this can drastically alter the Silver you should be investing in. Pre-1964 Silver for barter and exchange, exclusive assets out of the RCM that are exempt from Broker Reporting Requirements or Bullion, bars, rounds, Eagles or Maples, mention your objectives and a Senior Partner will discuss which asset is most aligned with your financial goals.
What Type of Precious Metal Should You Invest In?
When questioning which precious metals, allocation and diversification is every metals market newcomers primary concern. Retail Investors need to ask whether it's a preservation of wealth, return on investment, barter and exchange or a transference of wealth among heirs. PATRIOT Gold Groups Senior Partners can help align your portfolio with your objectives and address your risk tolerance whether it be conservative, moderate or aggressive. A Senior Partner is key in recognizing a good "entry point" "length of term of hold" and most importantly and too often overlooked your "exit strategy" Most investors don't realize just how complex investing in precious metals can be and having the benefit of Investor Direct Pricing and a Senior Partner to advise and structure a diversified portfolio for you is one of the significant benefits of working with PATRIOT Gold Group.